Mr. Roarke, step aside! Mr. Rook is a creeptastic take on the old Fantasy Island series, and it left me guessing and suspecting and panting for more. ~ Leigh, Guilty Pleasures
Mr. Rook
Rook's Island Series, Part One
by Mimi Jean Pamfiloff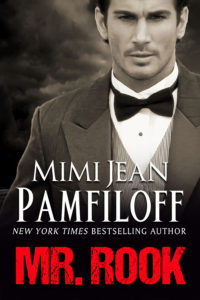 From NEW YORK TIMES Bestseller Mimi Jean Pamfiloff, Comes Part One of Mr. Rook's Island, a Sexy, Dark, Romantic Suspense.
He's Enigmatic, Dangerously Handsome, and COMPLETELY OFF-LIMITS…
The women who vacation on Mr. Rook's exclusive island are looking for one thing and one thing only: to have their wildest romantic fantasies come to life. Pirates, cowboys, billionaires—there's nothing Rook's staff can't deliver.
But when Stephanie Fitzgerald's sister doesn't return after her week in paradise, Stephanie will have to pose as a guest in order to dig for answers. Unfortunately, this means she'll need to get close to the one thing on the island that's not on the menu: the devastatingly handsome and intimidating Mr. Rook. And he's not about to give the island's secrets away.

Fans of the old 1970's television show will find the initial premise familiar, but with a sexy, buff, enigmatic man in charge of a high-tech island
designed to fulfill a woman's every fantasy, Mr. Roarke will need to step aside! Mr. Rook is a creeptastic take on the old Fantasy Island series, and it left me guessing and suspecting and panting for more.
The subject of the story is one which always fascinated me. If you could have your fantasies come true, would you? What would they be? What lengths would you go through to make it happen? And would it be a situation where you need to be careful what you wish for because it just might come true? This is the dilemma that faces Stephanie. Searching for answers regarding her sister's disappearance on Mr. Rook's Island, she plays a game in order to meet the elusive man that serves as the master of ceremonies and overseer of all in his exclusive domain. She needs to gain his trust to find out information, not only about her sister, but about the man himself. What she doesn't count on is falling for the mysterious stranger. Or having odd hallucinations and feeling like she's losing her mind on the island. Strange things are afoot but she's determined to find out what is going on.
I have to admit, you read a description that says it's a story about an island that fulfills a woman's wildest fantasy, and my dirty mind went to one place. But that was just the tip of the iceberg on this island. And considering that this was a "Mimi book" I should have known that all was not what it seemed. Like the island itself, the story was sinister and sultry. The characters were mysterious and snarky and I found myself disappearing from reality and wandering the island alongside Stephanie in her quest to find out the truth.
Which, by the way, we don't get in this book!
Damn you Mimi and your cliff hanger!!! I am hooked and eagerly awaiting the release of the second and third books so I can find out what on earth is going on! Who exactly is Rook? What's with the butterfly necklaces? Will Stephanie be indebted to the mobster who loaned her the money for her trip? How do I sign up for this island? There are so many questions here. I must have answers! And get some sleep. Because this is one book that you won't put down until you are finished.
ARC provided for a voluntary and honest review.
BUY NOW
AMAZON | AMAZON UK | AMAZON Canada | AMAZON Aus
KOBO | iBOOKS | NOOK | PAPERBACK
Giveaway
About the Author
MIMI JEAN PAMFILOFF is a USA Today and New York Times bestselling romance author. Although she obtained her MBA and worked for more than fifteen years in the corporate world, she believes that it's never too late to come out of the romance closet and follow your dream. Mimi lives with her Latin Lover hubby, two pirates-in-training (their boys), and the rat terrier duo, Snowflake and Mini Me, in Arizona. She hopes to make you laugh when you need it most and continues to pray daily that leather pants will make a big comeback for men
Sign up for Mimi's mailing list for giveaways and new release news!