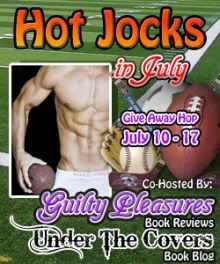 Do football or baseball butts drive you nuts? Do you love to see sweaty men chasing after each other? Tackling each other? Does the sight of a pair of sexy calves kicking a ball down field heat you up? Do NASCAR drivers rev your engine?
YES to all of the above for the GP Review Crew and the UTC Maidens.  Even though it's summer, nothing's stopping us from HEATING up our days and nights with HOT JOCKS!   Join Guilty Pleasures and Under The Covers for locker room talk about some of our favorite JOCK romances. Be sure to visit the other  blogs participating in this sexy hop 🙂
Do you have a favorite sports themed book or series? Is there a real life athlete who you can see as your favorite hero from a sports themed romance? We would love to know your favorites!
One lucky commenter will win their choice of one the following books.  Winner will be selected using random.org on July 17,
 Here are some of our favorites:
FOURTH AND GOAL
Seattle Lumberjacks Bk 1
In a game played on and off the field, only one of them will emerge the winner.
Armed with an uncanny ability for evaluating football talent, a dogged determination to succeed in a man's world, and an empty bank account, Rachel McCormick agrees to help struggling wide receiver Derek Ramsey get his game back. Rachel believes Derek, her former best friend and lover, knows the truth behind the points-shaving scandal which ruined her father. She vows to expose the secret even if it destroys Derek in the process.
When Derek's coach suggests sex as an excellent tension reliever the night before a game, Rachel takes one for the team. The next day, Derek has the best performance of his not-so illustrious pro football career. As Derek and Rachel rack up nights in bed and other places, the team racks up wins on the field. Rachel is torn between her loyalty to her father and her growing affection for Derek.
Now it's fourth and goal, one second left on the clock. Their hearts are on the line. Do they trust each other enough to go for the long bomb or do they get dropped for a loss?
Publisher's Note: This book contains explicit sexual content and graphic language
THE PERFECT PLAY
Play by Play # 1
The last thing event planner Tara Lincoln needs is the jet-set lifestyle of a football pro like Mick Riley; even though their steamy and passionate one-night stand proved that Mick is an all-star-both on the field and in the bedroom.
Tara played the game of love once and lost big, and she doesn't intend to put herself out there again, especially with a certified heartbreaker. But when Mick sets his mind to win, nothing will stop him. And he has the perfect play in mind to catch this sultry vixen.


GAME FOR ANYTHING by Bella Andre
Bad Boys of Football 1
Some lovers play it safe . . . others are GAME FOR ANYTHING.
He's the Superbowl hero men idolize and women lust after . . . the bad boy quarterback with a dangerous edge. But behind his devil-may-care grin, Ty Calhoun hides a desire that only one woman can ever fulfill—and a memory he can't shake: high school graduation night . . . and mind-blowing sex with the untouchable girl of his dreams. He would trade every trophy to feel the heat of her sensual, uninhibited lust once more. And he may get that chance . . . because she's just been hired by the San Francisco Outlaws' new owner to clean up Ty's act.
The country's top image consultant, Julie Spencer is a total pro at cleaning up the messes of the rich and famous. Even working with the man who took her virginity and broke her heart ten years ago can't shake her. Until he touches her again. Because one caress – one hot kiss – is all it takes to spark the same knee-quaking electricity, and soon they're mixing business and extreme pleasure. But knowing the danger this bad boy poses to her heart, Julie is determined to keep her distance.
But Ty has a game plan of his own. The more he misbehaves, the more Julie will have to keep tabs on him—and the more he can give his dream girl some very real thrills, by showing her just how fun it is to be bad. This time around he's game for anything…especially winning her heart.
GAME FOR SEDUCTION
Bad Boys of Football Book 2
She's not a good girl anymore . . . now she's GAME FOR SEDUCTION.
The daughter of a powerful sports agent, Melissa McKnight has harbored lust-filled fantasies for Dominic DiMarco ever since she was an awkward teenager, when the San Francisco Outlaws' gorgeous wide receiver became her father's superstar client. Now Melissa's a beautiful, tenacious associate in her father's firm, and being around to-die-for hardbodies is all in a day's work…until tangling with Dominic at a photo shoot blindsides her with passion.
Dominic has built a flawless career by being in control-on and off the field. And despite his intense desire for Melissa, he's not about to seduce his agent's daughter. Until Melissa stages a power play to break free from her domineering father-and winds up at an edgy bar on the wrong side of town. Dominic thinks he's rescuing the innocent Melissa he met years ago . . . but one night of sizzling passion reveals a woman with no limits-including a penchant for hot sex in public places. If anyone's breaking all the rules of seduction, it's sexy, irresistible Melissa.
But Dominic has a secret from years ago-one that could ruin his sterling reputation and take Melissa along with him. Will his bad boy past bind them closer together? Or will they crash and burn?
GAME FOR LOVE
Bad Boys of Football Bk 3
In a relationship built on lies…the only truth is their feelings for each other.
To fulfill his grandmother's dying wish, linebacker Cole Taylor must find and marry a good girl. First grade teacher Anna Davis fits the bill perfectly. Their deal is simple: If she'll be his temporary wife, he'll give her more pleasure than she ever imagined was possible.
Only, love is the ultimate game-changer.
TAKING A SHOT
Play by Play #3
If you want to score, you have to get in the game…
The last thing Jenna Riley needs is more sports in her life. While her brothers are off being athletic superstars, she's stuck running the family's sports bar, whether she likes it or not. Then in walks pro hockey stud Tyler Anderson. As much as Jenna would like to go to the boards with him, she's vowed to never fall for a jock-even one as hot as Ty.
Ty, intrigued by the beautiful bar owner, becomes a regular. He senses that Jenna wants to do something more with her life. And as he gains her trust, the passion between them grows, as does Ty's insistence that Jenna should start living for herself. With his encouragement, Jenna starts to believe it, too…
But first, Jenna has to figure out what she wants, what she needs, who she loves, and if she has the passion and pride to take a shot at having it all-including Ty.
CHANGING THE GAME

Play by Play #2
Most people play by the rules. Gavin and Liz aren't most people….
Win at any cost. That's always been the mantra of sports agent Liz Darnell. When she carries things too far and risks losing her number-one client, baseball pro Gavin Riley, Liz realizes that she'll have to work extra innings to win him back. It might not be too much of a stretch. She's had a thing for this player's moves since she first laid eyes on him, and by the looks of it, he wants her just as bad.
Gavin's more than ready—especially when Liz is offering herself as part of the bargain. And as much of her as Gavin wants. For added thrills, he decides to throw a little curve ball Liz's way to see just how far she's truly willing to go to keep him as a client. But when love unexpectedly enters the playing field, neither Liz nor Gavin are ready for the biggest game-changer of them all
TAKING SHOTS

Assassins #1
Elli Fisher has never thought she was good enough. Let it be her job, her weight, her love life, nothing, she was convinced she couldn't do anything right. She had walked through life for the past six years in a daze, never thinking that life could be good again after the abuse she endured from her ex boyfriend. She is lonely, sad, and depressed, that is until she meets Shea Adler. After doing a promotional shoot for the NHL team, the Nashville Assassins, she meets the hunky hockey player who shoots a puck, shattering her world.
Shea Adler was tired of the life he was living outside of the rink. The girls, the money blowing, the drinking, everything had to stop and it all did when he met Eleanor Fisher. He had never met anyone like her. She is feisty, witty, shy, and simply gorgeous. When he laid eyes on her, it was as if he was taking the hardest hit of his life into the boards, and he had to have her.
Elli is a little skeptical of Shea, but he knows that they were meant to be together, and he needed her in his life. But Elli just doesn't understand what Shea could see in her. She is overweight, loud, and not even that pretty, so why would someone so gorgeous and so amazing want to be with her? It seemed that no matter how hard she tried to shake Shea off, he wasn't going anywhere, and for the first time Elli didn't feel alone.
But could Elli throw her insecurities out the window and love Shea with everything inside of her? Or will she let a past relationship, and her family ruin any chance of her being happy?
TRYING TO SCORE

Assassins #2
Fallon Parker's dream was to have her family's wine company at the top of all wine magazines and to have a cellar of her own. After graduating from college, she has worked hard to make that dream a reality, even if that meant having a nonexistent love life. She had her chance at love and that was a bust, so she put everything into the wine company. After becoming the official sponsor of the Nashville Assassins, Fallon finally feels like everything is falling in place, that is until Lucas Brooks comes back into her life.
Lucas Brooks hates his life. He is lonely, he is sober, and he is angry. On the ice, when he's not in the sin bin, he the leading scorer in the NHL but off the ice, he is a mess. He threw away the most important person in his life, and has regretted it ever since but when Lucas sees Fallon again after being traded to the Assassins; he is bound and determined to get her back. Even if she wants nothing to do with him.
The sexual tension between Fallon and Lucas is electrifying as Lucas tries to convince Fallon that he is a changed man. Fallon tries to resist Lucas, but it is so hard when all her body wants is his. But when Lucas finds out that Fallon has been keeping a huge secret from him, the game he is playing stops and penalties are called.
With new rules and new players on the ice, will Fallon and Lucas be able to work out their differences and work as a team or will they be left trying to score alone.
DANGEROUS CURVES
NASCAR #1
SPECIAL AGENT CECE BLACKWELL IS SMART, SAVVY AND KNOWS HER WAY AROUND A RACE CAR.
Heading up a team to investigate the murder of a NASCAR driver is right up her alley. The only problem is NASCAR star Blain Sanders, the man who requested her. Blain is well-heeled, well connected and drop-dead gorgeous — and he knew Cece when she was a drag-racing tomboy with grease under her nails.
But Cece has grown up since then, in all the right places. And while catching the killer is her main objective, she's not above making the man who ignored her as a teenager squirm a little.
Two people on a surefire collision course. But Cece and Blain are about to discover that the sweetest victory does not always come from winning .