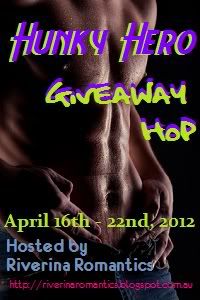 Thank you for stopping by Guilty Pleasures for the Hunky Hero Giveaway Hop sponsored by Riverina Romantics. Be sure to visit our participating friend blogs at the bottom of this post.
This blog hop runs from 12:01 AM April 16th to 11:59 PM April 22nd, 2012.
The GP Review Crew loves dark and broody alpha men who are gruff, bad boys, possessive and who take charge but have that hidden tenderness and total devotion to their women. 
What kind of Hunky Hero do you like?
One lucky commenter will win a some Hunky Hero swag fresh from RT 2012. Included will be romance trading card sets from Lorelei James and Kallypso Masters. There will also be various single hunky hero single trading cards, a McKay Buckle Bunny Button,  and bookmarks.    Winner must answer the above question, be a GP follower and fill out the form below. Winner will be selected using random.org. 
Thank you for stopping by Guilty Pleasures! Please follow us stay up to date on everything going on.