A: First, welcome to Guilty Pleasures! I'm so excited to have you here!
L: Thanks, glad to be here!
A: What inspired you to begin writing and how long have you been at it?
L: I've always been a writer at heart but I didn't take it seriously as a career until almost two years ago. I was a stay-at-home mom and voracious reader. Amazingly, I ran out of books in my TBR pile and got frustrated I couldn't find the perfect mix of what I was looking for. Mainly, a kick-ass heroine, an alpha male, lots of magic and adventure, and, of course, steamy romance. So I said to my best friend, why don't I just write one? She was cool enough to help me brainstorm my first novel attempt, which will likely never see the light of day. Shortly after that hot mess of a manuscript, Shadows of Destiny was born.
A: I love this story! You said, why not? You took a chance and look where you are now. Very inspiring.
A: Do you have any writing rituals before you begin? For example play certain music or light a candle, what do you do?
L: I lock the door.
A: Best ritual ever.
A: Other than writing, what are some of your passions in life?
L: My kids. Advocating for kids with special needs and adoption. I love being outdoors.
A: I see that both play roles in your stories. Fabulous.
A: I love your book covers! Can you explain the selection process and how much you are involved with it?
L: I do all of it! Okay, well, I should credit my husband, the Photoshop genius. We both work together to create the covers. I'm slowly learning how to do it on my own via video tutorials on youtube by a little boy who couldn't be more than eight years old. Quite a humbling experience.
A: Photoshop is daunting. Kudos to you, your husband and the genius eight year old.
A: Tell us about your Shadows of Destiny series. What can readers expect when they open themselves up to this world?
L: Hmm…well someone said it has the perfect blend of humor and darkness. What you can expect from my books is an action packed adventure full of magic, bloodshed, dark alpha males, strong, smart women, and hot romance. My books are primarily character stories – a man and a woman who overcome insurmountable odds and fall in love. But they do it with sword in hand, fighting ghoulish creatures and aren't afraid to get a little dirty.
A: The perfect blend of humor and darkness… Sounds like my kind of story… *winks*
A:  What kind of research did you do for your series? Or is it all out of your imagination?
L:  Research? Bleck! No, I picked the paranormal genre because I get to make up all the rules! But because it's a series, I have to stay consistent with the rules, which can be a challenge. I did some research into mythology. But really, the hardest thing, research wise, is writing historical flashbacks. In my second book I wrote a flashback scene from the 1100's and had to look up what kind of houses people lived in and what things you might find inside. It took me forever. And that is why I don't write historical. But I have mad respect for those that do.
A: Just so we're clear, are you saying you're not a big fan of the research? Kidding, I love your answer, all of them actually. *laughs*
A: To me, you write with a perfect blend of humor and darkness (two of my favorite things!). How do you make those balance out in your stories?
L: Honestly, it comes quite easily to me. I have a twisted sense of humor. My books are written versions of my personality. Okay, here's a secret. I have a short attention span. When I read, I hate long narratives and descriptions. I hate writing them even more. But there are times when I have to. You don't live in my head (be glad for that) so you need a picture painted of where the scene takes place. Though I like to leave a lot to the imagination, I need to give you at least a little. So when I'm forced to write things that don't thrill me, instead of chewing on my own arm in boredom, I try to make it funny. So if you have to read a long narrative about what the Underworld looks like, hopefully my character's inner snark makes you chuckle a bit. My goal for each book is to make the reader not want to put it down. So I keep the story moving. Like I said *points to self* short attention span. Maybe my books are written for people with ADD 😉
A: You have a great sense of humor. I for one was drawn in and did not want to put your book down. Mission accomplished!
A: Is there anything else you'd like your readers to know?
L: Well, I have three books in my series, each priced at the low cost of only $2.99. They can be read in any order or stand alone. Each book is a spin-off of a side character from another in the series. The next book will be released in June called, Destiny Bewitched. It's about a feisty witch, Samantha, who travels to the Underworld to save her sister. She makes a deal with a demon, Geo, for help. They end up in a supernatural version of the gladiator games, which is a lot of fun to write. Each of my books has a slightly different feel to it. Where my last book was on the darker side, Destiny Bewitched is high fantasy and a lot of fun.
A: Very reasonably priced. I'm already looking forward to Samantha and Geo's story. *Waiting anxiously*
A: Last but not least, what is your Guilty Pleasure?
L: Oh my, do I have to confess? Okay. Hmm. Other than the hundreds of books on my e-reader…a trip to the spa. I'm not a girly-girl but I can't resist a good massage and pedicure. Especially if it ends with some obnoxious color nail polish on my toes!
A: That wasn't so bad. Lovin' the obnoxious color nail polish – on our toes we can get away with such things. *grins*
A: Thank you for taking the time to chat with us! Best wishes to you!! *Big Hugs*
Want to know more about Leia's sexy, hot books? Visit her web-site http://www.leiashaw.com/
Leave Leia a question or a comment. One lucky commenter will win a digital copy of the first three Shadows of Destiny Books, DESTINY DIVIDED, DESTINY UNITED and DESTINY UNCHAINED. Winner will be selected at midnight, 3/25, using random.org.  Winner must be a follower of Guilty Pleasures and fill out the contest form at the bottom of the page.  All three books will be purchased by Guilty Pleasures through Amazon or Barnes and Noble.
Description:
"Pure power flooded her body flowing freely through her veins. She had just found an emotion stronger than anger and fear combined. Lust. And there was no containing her now."
After fleeing her native city — and nightmares of a traumatic childhood — Sage Peterson meets the overbearing, pretentious, yet haunted Professor Elias. He's the only one who knows about her mysterious powers, which seem to be spiraling out of control. When he convinces her to train with him, she finds herself thrust into a five hundred year war and on the run from vampires, werewolves, and even worse — her budding feelings for James Elias.
James had been living a dull and empty existence for the past century and a half. When a fiery half-sorceress, half-witch with a stubborn streak and sharp wit enters his life, he sees her only as a potential weapon to use against his greatest enemy. But when he discovers the vulnerable woman beneath the angry mask, instinct screams to keep her safe. To protect and provide. And to claim her as his.
But will it be too late? As passion and lust ignite between them, vengeance is slipping away. And when Sage is confronted with fulfilling an unexpected destiny, will she choose to trust James with her heart?
Book Two, Destiny United
Description:
Erin Bolton knows her former foster sister is a sorceress and a witch, but she wants nothing to do with that world. Fear dictates her life, panic attacks disable her, and only alcohol gives her the freedom she craves. The day before her twenty first birthday, a tall, dark, and terrifying vampire, Marcelo, turns Erin's world upside down. He convinces her that he was sent to escort her to the safety of the Underworld, where her sister is waiting. But she wonders, who will keep her safe from him?
Marcelo postponed his eight hundred year search for his wife to perform a small favor for the Queen of the Underworld. When the errand turns into a week long journey across the country toting a fragile female, his life takes a turn for the unexpected. Especially when, on Erin's twenty first birthday, he discovers there is more to this girl than meets the eye. And now instinct claims she's his. His mate. Meant for him, and him alone. Forever.
Can Marcelo give up his dream of reuniting with his long lost wife to be with the woman his body yearns for? Can Erin conquer her deep-rooted fears and confront the destiny only she can fulfill
Book Three, Destiny Unchained
Description:
They call her The Huntress. A vampire with lethal focus, Natalia hunts rogue werewolves and kills them without mercy. She buried her heart centuries ago. Now she lives only for revenge. But when she's forced to team up with the alpha of the northwest werewolf pack to catch a werewolf serial killer, her carefully controlled world is shattered by the passionate Cristian
Cristian can't help be intrigued by the icy Natalia. He hasn't been attracted to a female since his mate died decades ago. But now he vows to break that hard shell she wears and find the warm, nurturing woman inside.
Will Natalia accept Cristian's claim on her heart even if it means sacrificing a part of who she is?
18+ Excerpt from Destiny Divided, Book 1
He pressed his knee into the small of her back, holding her still while she kicked and squirmed. It wasn't a smart move, she realized too late. Her skirt had ridden up and with the handcuffs on, she was at his mercy. He chuckled and kneaded first one globe then the other, giving each a playful smack. "I rather like you this way."
"Cheater," she spat.
"Rule number one. Always be prepared to fight dirty."
She sighed in defeat and laid her cheek on the cold ground. "Okay, fine. You win. Now let me go."
"Three days, I was stuck in that goddamn cave," he whispered harshly at her ear.
"Three days with nothing to do but plot my revenge."
Shivers traveled down her spine and her insides twisted in knots. Just what did he have in mind? He gripped her upper arm and hoisted her to stand.
"What are you doing?" she asked trying to keep the panic from her voice. But, truthfully, her voice wasn't the only thing trembling.
He grinned like a feral wolf. "It's called payback, love."
He slung her over his shoulder and she bounced upside down as he ascended the stairs. Her stairs. In her goddamn castle. She fought him every step of the way, stunned she couldn't break through the handcuffs. When she bit into his back she felt the sting of his large palm connecting sharply with her ass.
"Stop that!" he ordered. "The handcuffs are reinforced with magic. They won't break. Now stop squirming. You don't want to endure any more of my wrath than necessary, I assure you." He repositioned her writhing body with a rough jostle. "Now, where's your bedroom?"
"Why would I tell you?"
He froze mid-stride. "Because one way or another I am going to have you tonight. We can do it right here in the hallway but I would have thought you'd want some privacy."
There was no teasing in his voice. She directed him to her room with a resigned sigh. When he threw her on the bed she attempted to kick him but he shoved his hips between her legs and pinned her to the mattress. Part of her wanted to beg him to ravish her greedily and the other part wanted to drop kick him off the balcony.
With her arms locked behind her and James' body covering the rest of her, she was good and caught.
"Do you still deny you have feelings for me, cariad?" James asked in a husky voice she could barely resist. He pushed the hair from her face looking down at her with such tenderness it made her heart ache.
What the hell? She almost preferred him handcuffing her and slapping her ass. Goddamn moody vampires!
"That's all right," he said. "I plan to make you remember your feelings."
She almost whimpered. Stop it, Sage! You're the goddamn Queen of the –
Mmmmm. He was doing something delicious to her mouth. His kiss was demanding. He rocked his body against hers, his tongue reaching into her mouth like he just couldn't get close enough to her. When he stopped it left her panting and gasping for air.
He stared down at her, his eyes half-hooded and wanting. When he looked at her like this, she felt an overwhelming sensation – not entirely unpleasant – that James really knew her.
He knew her and yet he came for her anyway.
The corner of his mouth curled then he yanked up her shirt and clawed her bra in half. Her breasts tumbled out. He gaped at them until her nipples hardened under his heated gaze.
He placed slow, gentle kisses from her chin, down her neck, stopping in the front of her throat to nibble gently. She may have stopped breathing, because she could no longer feel anything but his sweet caresses. A fever burned, starting in her stomach then spreading down to her core.
He shifted his hips and his erection hit just the right spot to send her into oblivion. She gasped and thrust toward him, willing him to grind against her just a little harder. But he stilled.
"James," she pleaded.
"Not yet." His kisses moved up the side of her neck. He whispered in her ear, "I want to play first."
His mouth made its way down her chest, licking, nipping, sucking, but he didn't touch her breasts. The cool air of her bedroom suddenly felt icy against her sensitive nipples. They tingled in anticipation when he gazed at them. She squirmed, willing him to take one between his lips.
As if he knew what she was thinking, he lifted his head, and with a decadent smile, he said, "Is there something you want, cariad?"
Willpower, Sage. Willpower!
"Touch them," she breathed. Damn you!
He nodded. "For good behavior," he teased. His mouth slid to one breast, lapped at her nipple softly then stopped. She arched her back but stifled a moan.
"Do you want more?" he asked.
She wanted to smack him. "Yes."
With a greedy glitter in his eye, he moved to the other breast sliding his tongue around her nipple before suckling it gently between his soft lips. Heat flooded between her legs and she ground
against his hips. A moan escaped her and his eyes flared with desire at the sound.
He sucked harder and the moan turned into a cry, but when he placed a rough palm between her legs sparks shot up her spine.
Suddenly his lips were against her ear, kissing as he whispered, "Do you love me, cariad?"
She blinked. Do I? She needed to give it some thought. But unfortunately, Mr. Sexy McHotness, here, was too distracting. "I-I don't know."
He didn't look upset with her answer. One finger delicately outlined her breast. "But you want to be with me," he commanded rather than asked. He pinched her nipple then caressed the pain away.
"Yes." She answered his command anyway. He smiled and grabbed her breast letting it fill his entire palm. "James," she breathed, her voice heavy with need. "No more questions. Just…touch me. Please."
He tipped his head up to regard her. "Just one more question." He lowered his mouth to her breasts at the same time as he slid his hand down between her legs. But he barely touched her. He drew circles lazily with a finger over her panties. Teasing.
God, she wanted to kill him. Well, first screw him then kill him. "Do you want to come home with me?" he finally asked, his voice dripping with a buttery seduction even freakin' Mother Theresa couldn't resist.
"Yes. Anything," she answered.
"Just…please." She bucked her hips against his, yearning for contact.
A sinful smile broke across his face. "That's my girl."
Wait, what did I just agree to?
Before she could ask for some clarification about that last pesky little question he flipped her over and dragged her to the edge of the bed.
"Ah, Sage," he said standing behind her, "you make it too easy with these skirts."
Her skirt went up and her fishnets went down. She was still helpless with her hands cuffed behind her back, but she liked it. She liked that she was at his mercy in every way. And she knew from experience, he was good at giving her what she needed.
He fingered the edge of her black lace panties. "These please me, cariad." His fingers dipped under her panties and between her folds. Pleasure rocked through her body until she thought she might come apart. She gasped.
In a flash, her underwear was gone and he thrust into her wetness. She hadn't even heard him unzip his pants. All it took was one fierce drive and she was over the edge. Stars studded her vision as she cried out for him.
A few minutes later, she landed back on earth. James chuckled. "My little sorceress is lusty," he whispered and bit her earlobe sharply.
She yelped working up to another climax. With one big hand placed on the small of her back, pinning her in place, he moved in and out of her. Her body jerked back and forth with the strength of his movement. The bed banged against the wall and with every sharp thrust their skin slapped together lusciously. Their sex was loud and violent, just as she'd expected.
Her moans and cries grew louder. She couldn't contain it anymore, she was going to explode. But James flipped her over seamlessly and continued pumping into her with enough force to make her teeth clatter. This was no gentle lovemaking. This was passionate, vengeance sex. God, she loved it!
He brought two palms down onto the bed on either side of her head and looked into her eyes. She closed them to shield herself from his intensity.
"Open your eyes," he ordered. "Look at me." She did. "That's it," he encouraged, his voice turned velvety. "Keep your eyes on me."
His normally perfect features were shimmering with sweat. Combined with his ragged overgrown beard, he looked sexier than ever.
He leaned forward, grabbing her face possessively with one hand. "You are mine, Sage. Do you understand me? Mine!" he rasped fiercely.
Waves of heat flooded her and butterflies danced through her body.
"Now come with me, cariad," he commanded.
Thank you for stopping by Guilty Pleasures!  Please visit the other participating blogs listed below.
Are you a blogger or an author?  
We would love to have you join one or both of the upcoming Give Away Hops we are hosting with 
Under The Covers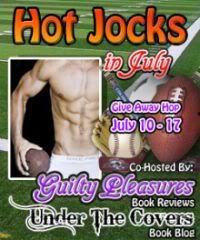 Thank you for stopping by Guilty Pleasures! Please follow us stay up to date on everything going on.